The RCV Service Experience
Welcome to RCV – your local Land Rover and Range Rover service specialist. With over 60 years of combined experience, all relevant to Land Rover and Range Rover vehicles, our dedicated team is unique in providing an exceptional service tailored to all Land Rover and Range Rover vehicles.
Because of the high level of service we provide and our impeccable customer experience, the RCV service package is often taken up by customers many miles from our base in East Peckham. We manage to achieve greater geographical coverage while entirely retaining all of the benefits of a local business.
All of our Land Rover services are carried out using the approved schedules and any new parts will be OEM (Original Equipment Manufacturer) or approved genuine parts that protect your manufacturer's warranty. RCV offer a local, high quality service experience that will even save money compared to the Land Rover service – ideal for when your service plan has expired. We can save you up to 40% on main dealer prices without invalidating your warranty.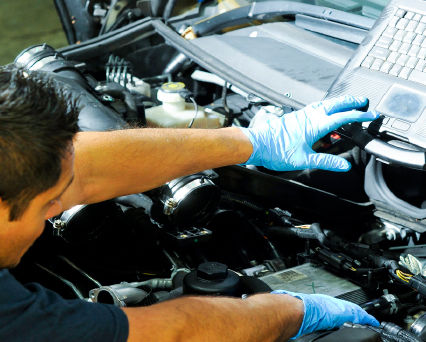 Why Service your Range Rover Velar?
Having been crowned the most beautiful car in the world in winning the World Car Design of the Year title at the 2018 World Car Awards, not keeping your Velar in tip-top condition would be something of a travesty. The Velar is so well engineered and benefits from such exceptional performance that as long as you look after it properly, ensuring your service history is kept intact, it will provide many years of stunning driving performance. Designed, engineered and fully manufactured in the UK, it is a vehicle that RCV are delighted to handle and have great experience in ensuring that your Velar service schedule is perfectly matched to the vehicle's unique needs.
Check here for our fixed price guide for servicing your Discovery Sport, or contact us for more information, here.
Range Rover Velar Service
Interim Service
The Velar interim service provided by RCV will involve the replacement of engine oil and oil filter and must be carried out if you have driven 10,000 miles since the annual service, but before the next major service.
The major service carried out on your Velar – due every 16,000 miles or 12 months – will also involve the replacement of engine oil specific to your vehicle, as well as a filter change. It will also involve replacement of other filters, like cabin, pollen and air filters if necessary. Depending on your vehicles mileage we will also look at replacing brake, transmission and coolant fluid.
With an RCV service there will be no nasty surprises. After your vehicle has been fully analysed using the industry standard VHC (Vehicle Health Check) we will always get in touch before any work over and above the service is carried out.