Gerry McGovern is much more than just a car designer. His brief as Chief Creative Officer at Jaguar Land Rover is as much about the direction of the brands he's responsible for as devising the look of some of Britain's most stylish cars.
McGovern has been heading Land Rover design since 2004, but has now been given responsibility for Jaguar, too. It's the first big appointment by new JLR boss Thierry Bolloré and arguably the most important.
Jaguar has always played second fiddle to Land Rover in terms of sales and, therefore, financial impact on the JLR business. Now's the time for that to change with McGovern guiding the future of both brands.
He sat down with Auto Express to give an exclusive insight into his plans, starting with why he feels it's important to have one man leading the vision for Jaguar and Land Rover.
"The automotive landscape will change significantly over the coming years, with pending legislation potentially forcing automotive bands into similar technical solutions for its products.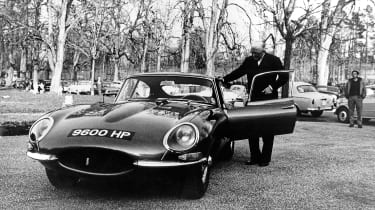 "So it makes sense for JLR to have one creative leader to ensure that the essence of both its unique brands, in design and overall tonality, is developed in a compelling manner while maintaining clear differentiation.
"The Chief Creative Officer must of course be supported by a Design Director for each brand, with Julian Thomson at Jaguar and Massimo Frascella at Land Rover providing a strong and balanced creative leadership for the JLR enterprise. Thierry is very much aligned with this view."
McGovern has clearly clicked with the new boss, as he explains: "I've found him truly inspirational, his insight into luxury consumerism is something that resonates with me. You'd understand that, given that he's a Parisian and that's where a lot of great luxury brands emanate from."
With McGovern just weeks into his new role, it's too early to say what future Jaguars will look like, but work has already been started by his team. "It's in its infancy, but I've started to work with the team defining a future design strategy for Jaguar," he says.
So what can we expect to see from McGovern's team? "That's the million dollar question isn't it?" he replies. "Over the years, I've developed a structured approach where, before we start designing anything, we go through quite an intense creative intellectual process where words are written down to help define a vision. A design strategy evolves from this process to create the guidelines for the design team. The design strategy that we developed for Land Rover over time became the bible for everything we did.
"We have talked a lot in the past about Jaguar's unique design heritage, which is clearly important to give the brand its authenticity. However, if just applied to a modern design language it will not be credible. Whatever we create has got to have integrity.
"You start by looking at the past and see if anything is codifiable in a relevant, modern context. Ultimately it's about capturing the essence of your heritage, not a retrospective look and feel." So, it's clear that future Jaguars will acknowledge the past, but look to the future, as McGovern explains: "Jaguar cars of the past were of their time, they weren't looking back, they were looking forward.
"So, you consider the past, you observe the present, you imagine, then you plan and then you execute. At the moment, we're in the actual process of the reimagining. Words such as exuberance and drama come to mind. Think of that jaw-dropping moment when the E-Type was viewed for the first time."
One car that McGovern references as being one of his favourite Jaguar designs isn't necessarily one you might expect – the XJ-S.
"When that came out it didn't initially resonate with me. However, over time I got to admire it. What I liked is that it wasn't trying to emulate anything that had gone before, but still looked like a Jaguar," he says.
McGovern references modernity a lot when he talks about Jaguar design, as he has done about Land Rover, but he also talks about exclusivity. "When you buy a piece of luxury jewellery, say a Cartier for instance, you know that its intrinsic value will increase year by year. Can you imagine if you bought a luxury vehicle that did the same?
"That just gives you a flavour, but I haven't got anything to show anybody yet. But we have a level of alignment around the emerging design and brand strategy."
However, there's the small matter of a pair of new Jaguars set to be unveiled in the next couple of years – a new, all-electric XJ, plus the rumoured J-Pace SUV, neither of which McGovern will have had any influence over. It's quite possible that these two cars, along with the rest of the current Jaguar line-up, won't fit the vision for the future of the brand.
Although McGovern wouldn't give any clues to the shape of future Jaguars, he did reveal his brief to his design team: "Think big. Dream. Don't feel constrained. And by the way, don't even think about the competition."
It will be some time before we see a Jaguar created by a McGovern-led design team on the road, but the next generation of Range Rover is due to break cover next year and McGovern is quick to point out that he won't lose his focus on the Land Rover family.
"We can't be complacent about Land Rover," he says. "We're going to have the new generation of Range Rover coming and when you see it, you will be instantly struck by its overwhelming and compelling sense of modernity. And yet, you'll see it's unmistakably a Range Rover.
"In terms of Defender, we've established that. And I think the world is its oyster – there are all sorts of things you can develop to build what I think is a brand in itself."
With the Defender and Range Rover pillars looking after themselves, where does that leave Discovery?
"For me, the one area that is ripe for development is Discovery," says McGovern. "Because now that we've got Defender doing a specific job that the Discovery in the past has had to compensate for, there is now the opportunity to create something different.
"So we are focused on this. As too is the next generation of architectures. Because they will define potentially what a lot of our future vehicles look like.
"The challenge for Land Rover is going to be how we continue the transformation while circumnavigating the challenges ahead. How do we embrace electrification, aerodynamics and all these other things that could pull us in one direction, while maintaining the essence of the brand?"
It's not just the outside that McGovern is focused on, though. "We need to continue our emphasis on the changing world of materiality, it will be an area for development in terms of new materials that will contribute significantly to differentiate our design DNA." Then there's vehicle technology and connectivity – areas that teams under McGovern's control are already working on.
"Design can play a bigger role in bringing a more consistent look and feel to the branding in its totality," he says. "From the ability to communicate outside the car to the way you communicate in it, connectivity will have to be considered as a total digital ecosystem and be presented to the consumer as a flawless consistent communication that is both intuitive and negates potential information overload."
When it comes to the much-rumoured new crossover model, imagined in our exclusive image above, McGovern gives little away. "I wouldn't believe everything you read in the press," he says.
"However, while I see opportunities for new types of products within the Land Rover brand I do not see any sense in a fourth pillar, because this would be a deviation of our fundamental strategy.
"Let me put it another way," he says, "We continue to explore opportunities because Land Rover, particularly, and Range Rover have shown with the Evoque and with the Velar, to a degree, the potential stretch in the brand. So we will continue to look.
Source: Auto Express