The RCV Service Experience
Welcome to RCV – your local Range Rover service specialist. With over 60 years of combined experience, all relevant to Land Rover and Range Rover vehicles, our dedicated team is unique in providing an exceptional service tailored to all Land Rover and Range Rover vehicles.
Because of the high level of service we provide and our impeccable customer experience, the RCV service package is often taken up by customers many miles from our base in East Peckham. We manage to achieve greater geographical coverage while entirely retaining all of the benefits of a local business.
All of our Range Rover services are carried out using the approved schedules and any new parts will be OEM (Original Equipment Manufacturer) or approved genuine parts that protect your manufacturer's warranty. RCV offer a local, high quality service experience that will even save money compared to the Land Rover service – ideal for when your service plan has expired. We can save you up to 40% on main dealer prices without invalidating your warranty.
Why service your Range Rover Evoque?
With Active Driveline7 and Adaptive Dynamics8, the Range Rover Evoque is an exhilarating drive, whatever conditions you are confronted with. Whether on or off road the assurance and confidence you feel driving your Evoque is priceless, no? Well, to ensure that these incredibly high levels are sustained it is vital to treat your Evoque as well as it treats you. This, of course involves regular servicing. By keeping your Range Rover Evoque service record fully up to date you will be able to ensure continuous performance and minimise depreciation while making sure no component is neglected. Using our easy to use fixed price servicing guide you can select your Range Rover Evoque and choose a service type to suit your exact vehicle's specific requirements.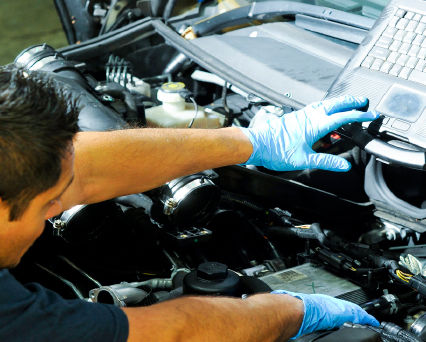 Range Rover Evoque service
The Range Rover Evoque is such a smooth and enjoyable drive, benefitting from hi-tech features aplenty. In order to make sure the fantastic performance is sustained a regular service is required. Our interim service is also referred to as the 6 month service, due after 6, 12, 16 or 20,000 miles or every 6 months, whichever comes sooner. This will ensure that your Range Rover Evoque is completely fit for purpose between full services (every 12,000 miles or 12 months), allowing you to rest easy in the knowledge that your vehicle is ready to get you through all the challenges that life throws at you. As with all of our interim service packages your Range Rover Evoque will benefit from an oil change and a brand new filter, while your vehicle's exhaust, brakes and suspension will all be checked.
With an RCV service there will be no nasty surprises. After your vehicle has been fully analysed using the industry standard VHC (Vehicle Health Check) we will always get in touch before any work over and above the service is carried out.