Range Rover Sport review
If you can afford to run it, the Range Rover Sport is a hugely capable SUV which combines luxury, performance, and unbeaten off-road ability.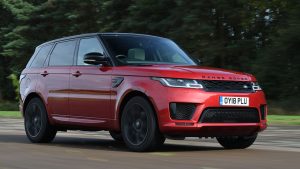 We are big fans of the Range Rover Sport. It's one of the most popular premium SUVs currently available, and deservedly so: the Sport is great to drive and fully lives up to its name with strong performance and size-defying handling prowess. The seriously potent SVR model, meanwhile, is a genuine sports car on stilts, but even the four- and six-cylinder versions have ample power.
The Sport is as luxurious as you'd expect a big car wearing the Range Rover badge to be, and although not cheap to buy, it's an accomplished and impressive machine. There's little to fault and a lot to like: with owners telling us they're equally delighted, we're happy to recommend it.
The Range Rover Sport was first introduced in 2005 as a trendier, more accessible alternative to the full-sized Range Rover. This allowed the bigger model to move further upmarket, while the Sport competed with cars like the Porsche Cayenne and BMW X5.
The current model, launched in 2013, is the second generation of Range Rover Sport. While the original model was based on the same platform as the Land Rover Discovery, and was massively heavy as a result, this model is all-aluminium and significantly lighter. That pays dividends on and off-road, and the Sport is an amazingly capable vehicle wherever you take it, given its size.
Land Rover sells the Range Rover Sport in a single five-door bodystyle, with this generation introducing the option of a third-row of seats in the rear. That makes this the first seven-seat Range Rover, as not even its bigger brother seats more than five. The arrival of a three-row version was partly in response to customer demand.
The range includes a mix of four-, six- and eight-cylinder engines, with mild and plug-in hybrid tech featured on certain models to help improve economy and lower emissions. The 3.0-litre, six-cylinder D300 and D350 diesel versions include a belt-driven starter generator and a 48v battery to help with overall efficiency, as does the 3.0-litre petrol P400 variant.
The P400e plug-in hybrid combines a 2.0-litre four-cylinder petrol unit with a 85kW electric motor, delivering a total of 398bhp. There is also the standard 2.0-litre petrol P300 model which, at around £65,000, is the entry point into Range Rover Sport ownership.
For those seeking extra performance, the P525 with its supercharged V8 engine should provide enough shove, although even this model is eclipsed by the top-of-the-range P575 SVR.
There are six trim-levels to choose from: HSE, HSE Silver, HSE Dynamic, HSE Dynamic Black, along with HST and Autobiography Dynamic. The SVR is essentially a standalone version, although does include a Carbon Edition upgrade.
The Range Rover Sport takes on the X5, Cayenne, GLE and Q7, along with left-field offerings like the Maserati Levante.
Source: AutoExpress