The RCV Service Experience
Welcome to RCV – your local Range Rover service specialist. With over 60 years of combined experience, all relevant to Land Rover and Range Rover vehicles, our dedicated team is unique in providing an exceptional service tailored to all Land Rover and Range Rover vehicles.
Because of the high level of service we provide and our impeccable customer experience, the RCV service package is often taken up by customers many miles from our base in East Peckham. We manage to achieve greater geographical coverage while entirely retaining all of the benefits of a local business.
All of our Range Rover services are carried out using the approved schedules and any new parts will be OEM (Original Equipment Manufacturer) or approved genuine parts that protect your manufacturer's warranty. RCV offer a local, high quality service experience that will even save money compared to the Land Rover service – ideal for when your service plan has expired. We can save you up to 40% on main dealer prices without invalidating your warranty.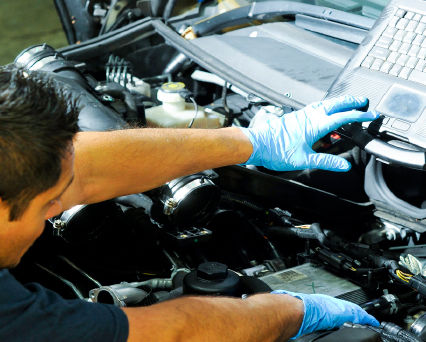 Why Service your Range Rover?
No matter whether your Range Rover still feels as smooth and reliable as ever, you never know how close you are to dropping performance or having an issue until it happens. Keeping your Range Rover serviced will ensure that any minor issue is detected and rectified early on, preventing it from becoming a more costly repair. By taking full advantage of yearly and half-yearly interim services you will make sure that your Range Rover continues to run like clockwork. It is hard to beat the Range Rover for luxury in the SUV market and it continues to reinvent itself with each updated model leading the pack in terms of refinement, power, off-road ability and style. This is a car you want to nurture and take care of as, given the correct service schedule it is built to last.
Check here for our fixed price guide for servicing your Range Rover, or contact us for more information, here.
Range Rover Service
The interim service for your Range Rover is also referred to as the 6 month service, due after 6,000, 12,000, 16,000 or 20,000 miles or every 6 months, or whichever comes sooner.  The main service for your Range Rover is due every 12,000 miles or 12 months. By making sure you keep fully up-to-date with servicing your Range Rover you are limiting depreciation, ensuring safety and optimum performance and enabling you to get maximum value for your car should you decide to sell or trade in. All of our interim service packages include an oil change and brand new filter, plus a thorough check of your car's exhaust, suspension and brakes, which should give you the peace of mind you need between full services.
With an RCV service there will be no nasty surprises. After your vehicle has been fully analysed using the industry standard VHC (Vehicle Health Check) we will always get in touch before any work over and above the service is carried out.
Click the link to view our Range Rover Velar service guide.
Click the link to view our Range Rover Evoque service guide.