The RCV Service Experience
Welcome to RCV – your local Land Rover and Range Rover service specialist. With over 60 years of combined experience, all relevant to Land Rover and Range Rover vehicles, our dedicated team is unique in providing an exceptional service tailored to all Land Rover and Range Rover vehicles.
Because of the high level of service we provide and our impeccable customer experience, the RCV service package is often taken up by customers many miles from our base in East Peckham. We manage to achieve greater geographical coverage while entirely retaining all of the benefits of a local business.
All of our Land Rover services are carried out using the approved schedules and any new parts will be OEM (Original Equipment Manufacturer) or approved genuine parts that protect your manufacturer's warranty. RCV offer a local, high quality service experience that will even save money compared to the Land Rover service – ideal for when your service plan has expired. We can save you up to 40% on main dealer prices without invalidating your warranty.
Why Service your Discovery Sport?
Similar to the Range Rover Evoque in many ways, the Discovery Sport oozes comfort, style and benefits from a spacious interior, making it a popular family car. Recent models have adopted mild hybrid technology, making it more fuel efficient too – leaving you with an SUV tailor-made for the 21st century.
Keeping your Discovery Sport fully serviced will ensure that the performance you come to take for granted will remain a constant throughout the vehicle's life cycle. Every annual or 12,000 mile service will represent a comprehensive overhaul of the Discovery Sport's key components, ensuring that your vehicle is always at its very best. A full service history also minimises depreciation and should you decide to sell or trade in you will have made sure that you are able to command the best possible price.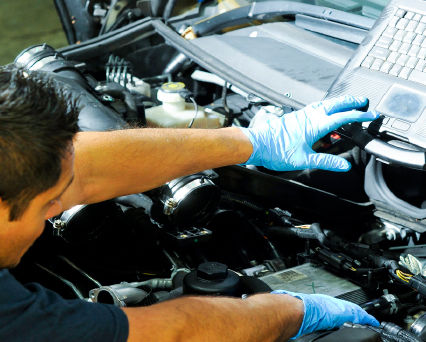 Check here for our fixed price guide for servicing your Discovery Sport, or contact us for more information, here.
Discovery Sport Service
The interim service for your Discovery Sport is also referred to as the 6 month service, due after 6,000, 12,000, 16,000 or 20,000 miles or every 6 months, or whichever comes sooner.  The main service for your Discovery Sport is recommended by RCV every 12,000 miles or 12 months. You will find information online suggesting that the first service is due after 21,000 miles but the experience of most owners has been that you should service your Discovery Sport after 12,000 – the 21,000 mile figure was something of a marketing pitch by Land Rover and has not held up under scrutiny.
By setting your full service at every 12,000 miles or 12 months, whichever comes sooner you will be able to rest in the knowledge that you are treating your precious vehicle as it deserves to be treated. To provide additional peace of mind, making sure that your Discovery Sport's performance retains its exceptional level and ensuring that any minor issues are dealt with before they become more serious we highly recommend an interim service. All of our interim service packages include an oil change and brand new filter, plus a thorough check of your car's exhaust, suspension and brakes, which should give you the peace of mind you need between full services.
With an RCV service there will be no nasty surprises. After your vehicle has been fully analysed using the industry standard VHC (Vehicle Health Check) we will always get in touch before any work over and above the service is carried out.