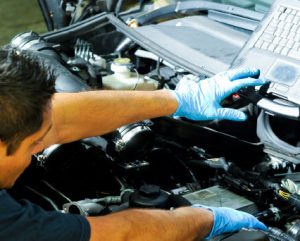 If you live in Kent and have never taken your Land Rover or Jaguar in for a service at RCV before, it can be a potentially daunting task.
Even if you have booked your car in for a service before, it's always helpful to refresh your memory about what will happen on the day so that you are fully prepared for what's in store.
How does a service differ from an MOT?
MOT's are full inspections of your car, during the process, our trained technicians wont take anything apart or strip any components down. It is simply a test to make sure that the vehicle is safe and legal to be on the road. A service, on the other hand, is a much more thorough look at the workings of your car. Our trained Jaguar Land Rover specialists are allowed to take things apart to be able to access all of the parts of the engine and will therefore be able to give you a much better idea of what is in good condition and what is not.
What will they do to my car in a service?
The service is basically just a thorough check of all of the working parts of your car. Our trained technicians will check the inside and outside of your car, as well as all of the working components with the latest diagnostic equipment to make sure that everything is running as it should. They will check for parts which may be wearing out so that you have plenty of warning if they need to be replaced. They will also perform an oil change and replace the oil filter in your engine and some of our services include brake fluid change and/or Adblue included in the price. If you have any specific questions about exactly what your car will go through in a service then please give us a call on 01622 873000 and we can talk you through our service plans.
How long does a service usually take?
The length of the service here at RCV will depend on a few factors, but we do offer a courtesy car service for your convenience. A full service is usually completed within 3 hours, But the length of the service will depend on whether or not there are any problems found. If everything runs smoothly then you should have your car back within 3 hours; if there are issues which need to be resolved, then it could take longer. We will inform you if your car will have to remain in the workshop longer than expected.
How much does a service cost?
Our highly skilled Land Rover trained technicians will service your Land Rover using the approved manufacturer's schedules and approved genuine or original equipment parts to protect your manufacturer's warranty for a fixed price. prices start from £172, but we also offer pre payment service plans to suit your needs.
With over 30 years of service, dedicated to Land Rover, we offer a one stop centre for all servicing and mechanical repairs, saving up to 40% on main dealer prices. Constant reinvestment in the latest Land Rover technology ensures that we stand out from all other independents, allowing us to offer the same high level service as main dealers, but at a much more competitive rate. Our experienced Land Rover trained technicians and administrative staff guarantee a personalised service that cannot be surpassed anywhere in the motor industry. Call us on 01622 873000 to book your service.